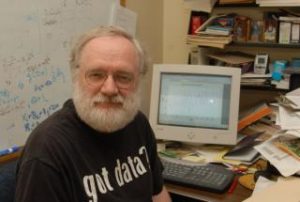 Robin Lock, Burry Professor of Statistics, St. Lawrence University
I have the luxury of teaching in a computer classroom with 28 workstations that are embedded in desks with glass tops to show the monitor below the work surface.  This setup has several advantages (in addition to enforcing max class size cap of 28) since computing is readily available to use at any point in class, yet I can easily see all of the students, they can see me (no peeking around monitors), and they still have a nice big flat surface to spread out notes, handouts and, occasionally a text book (although many students now use an e-version of the text).  I also have software on the instructor's station (Smart Sync) that shows a thumbnail view of what's on all student screens.  Since the class is setup to use technology whenever needed and appropriate, it is natural to extend this to quizzes and exams, so my students routinely expect to use software as part of those activities.
Ideally I'd like to see what each student produces on the screen and how they interpret the output to make statistical conclusions, but it's not practical to look over everyone's shoulder as they work.
Continue reading