The content of this website is available for use under a Creative Commons Attribution-NonCommercial-ShareAlike 4.0 International License unless otherwise noted.



This page has been archived and will no longer be updated.
Navigation: CAUSEweb ⇒ September 2015
---
Teaching & Learning Series Webinar

This series of webinars presents highlights from the most recent issue of the Journal of Statistics Education.
They are usually held on the third Tuesday of each month at 12:00 noon Eastern time.
Hosted by Associate Editors of the Journal of Statistics Education.
"Reflections on making the switch to a simulation-based inference curriculum"
with Julie Clark (Hollins University), Lacey Echols (Butler University), Dave Klanderman (Trinity Christian College) and Laura Schultz (Rowan University), moderated by Nathan Tintle, Dordt College
12 p.m. Eastern Standard Time, September 8th, 2015
In this webinar some recent new adopters of simulation-based inference (SBI) curricula will share their responses to questions such as: What made you switch to SBI from a traditional curriculum? What have you enjoyed most about the switch? What were some of the challenges in switching? What would you do different next time?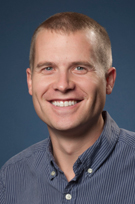 Nathan Tintle
Materials
Recording